The International Bowl Carving Conference [IBCC-2018]
Had such a great time hanging out with my compadre over at his forge in Machynlleth, Wales this past weekend. Nic Westermann and I have some super exciting news to share in the near future. Lots of irons in the fire, but projects to be real proud of. Just wanted to raise a kuksa to him, his wonderful wife Seren, and the kids for always treating Nicky and I like we're a part of the family.
As always the story starts out with a the dim and almost gloomy lit morning looking out the old farmhouse windows at The Westermann's home. There is something primal and rugged about Wales. It's always blanketed in some heavy wet fog, the creeks and streams, moss and old stones are always trickling with water. There is something that feels really alive about the place, and in fact, I don't really mind the ever changing weather. Some people associate Wales with all this extra moisture as if it's some sort of problem. Any place that requires boots is a-ok in my book.
I decided in last minute Christmas desperation that I wanted to spend the new year with my love, Nicky in London. When I visit I always set aside a little time to visit Nic and the family. We had some important business to talk about, and every time I'm there I think of a blog post of his a while back..

I remember him having this elusive International Bowl Carving Conference about four years ago. So I thought, "Nic, we outta throw another one, I haven't hewn a large bowl since last summer!" Really I never have time to branch out and carve other things I really enjoy because I'm always focused on running my handcraft business which is focused on kuksas, spoons, and teaching (which requires a lot of time on the road). So intentionally taking off a weekend to get lost in the swing of an adze sounded lovely. The idea is we'd focus one a specific handcraft, making hewn bowls which isn't a very common thing these days as they require a lot of work and skill to get right.
Since I started carving, I've always been fond of the gathering of crafts people, and have tried my best to help get them together. The last couple at Nic's, he invited some friends over to test out some special tools, and the same story applies here.
It was also nice to finally get some time to get to know Alastair Dargue who makes the most gargantuan and beautiful hewn bowls. He brought along one you could bathe in! I finally got to see his work in person, and I was just so impressed and inspired by the amount of skill and knowledge. He's also hilarious! Always ready with some wit and comic relief to keep the laughs roaring.
When you're traveling and teaching you rarely get a moment to actually relax with a tool in your hand and just talk in a casual manner. Usually it's the stress of schedules, funds, trains, planes, cars, lack of sleep, forgetting to eat, and trying to talk to as many people possible to soak it all in!
I get so engulfed in making kuksas and teaching that I forget to take time off from work to fall in love with carving again. I've always had a huge interest in hewn bowls, made a couple dozen in the past, and as much as I like turning, there is nothing like a giant hewn bowl! Nicky calls it "bowl mining" because you're swinging these giant tools like a pick axe, and excavating a bowl from a massive piece of tree trunk! It's great fun, and opens up your brain to new methods of approach.
For Nic it's useful as well because the guy is so busy keeping up with the high demand of orders that he never has the opportunity takes off time to do other things he enjoys, like carving. But more important he can see how his tools function when other people are using them from various different skill levels. We played around with some experimental tools, and even ground some out in the middle of carving. Im feeling very fortunate to have such good friends, and I'm able to still carve and travel even though I live on arguably the tightest budget of the world. Spoon carvers budget!
Usually when using a long handled adze, you want to have the bowl supported on a low bench. I wanted the bowl secured by wedge to see how accurate I was swinging this right to my bowl's rim line. Long adzes are typically swung towards your feet, so I had to improvise using one of the "Kuksa Horses" Nic and I designed a year or so ago. Im standing on another carving bench a couple feet off the ground so I can get the right reach. Was quite fun to see!
Nic just wrote me and said the largest adze chip thrown was 1"x3" ! I also hewed a 7" long x 5" wide axe chip. Fun stuff to think about as far as efficiency goes.
It was great to get to know Mike Balmer as well. He's been buds with Nic for a while and in the past couple of years wanted to take a kuksa carving course, but other plans got in the way. Here he is working on a bowl shape he's always wanted to try. Some real nice cherry there.
It was lunch time, and Alastair brought some sour dough bread he baked for the conference. Here is showing the traditional bowl hewer's way of toasting the bread. Seren cooked us up some tasty casserole. Which of course was served in wooden bowls and spoons we've made
At some point in these images, we headed to the pub and off the sleep off the full day of carving.
We awoke to a nice blanket of 3-4 inches in snow, which you can imagine I was excited about living in the north woods of America. We get snow on the regular but the U.K. doesn't. So you can imagine that even though a small amount of snow, maybe folks are prepared for it. So we had to help Alastair get up Nic's steep slippery driveway so we could make it back to the second day of the IBCC.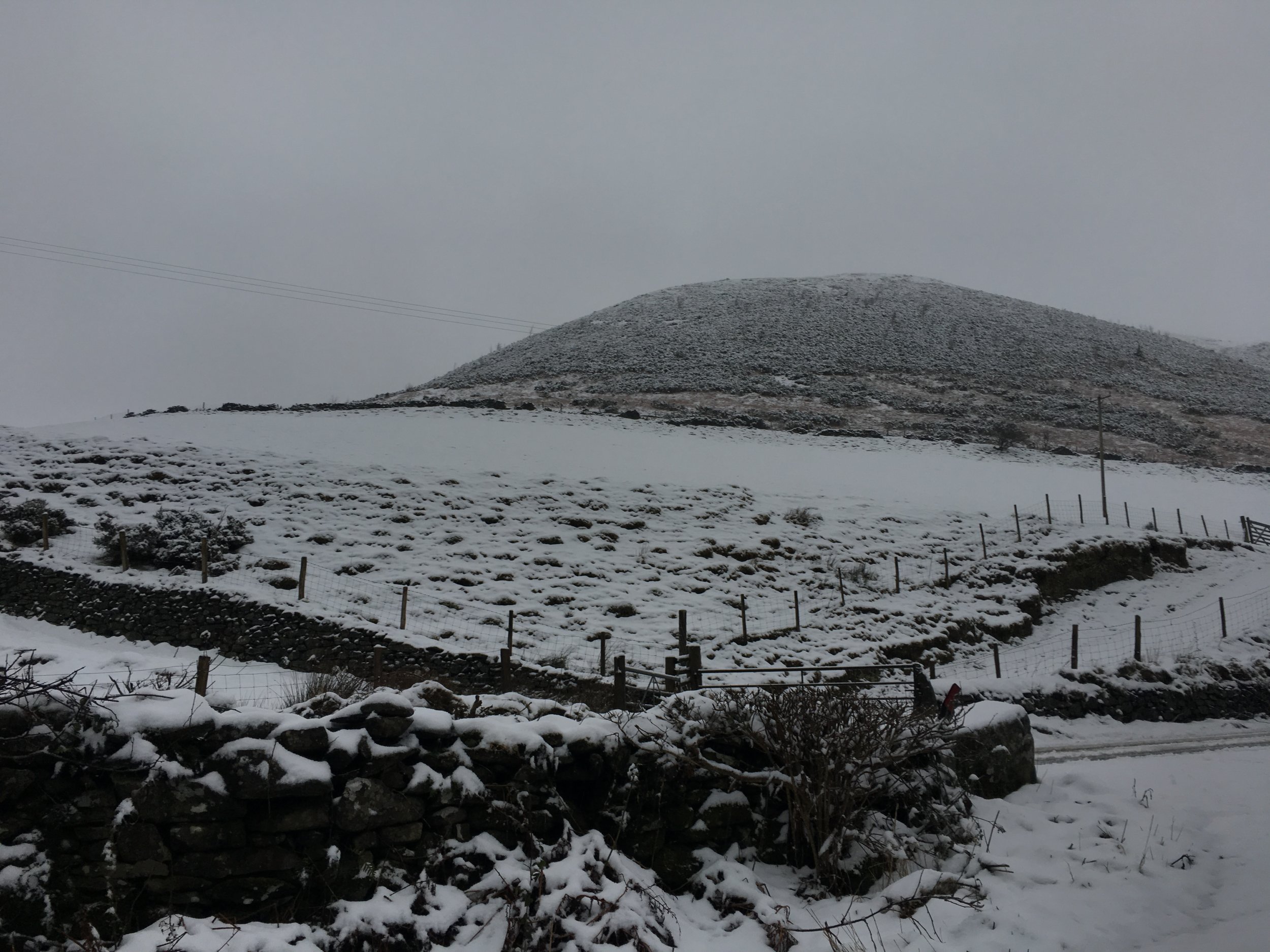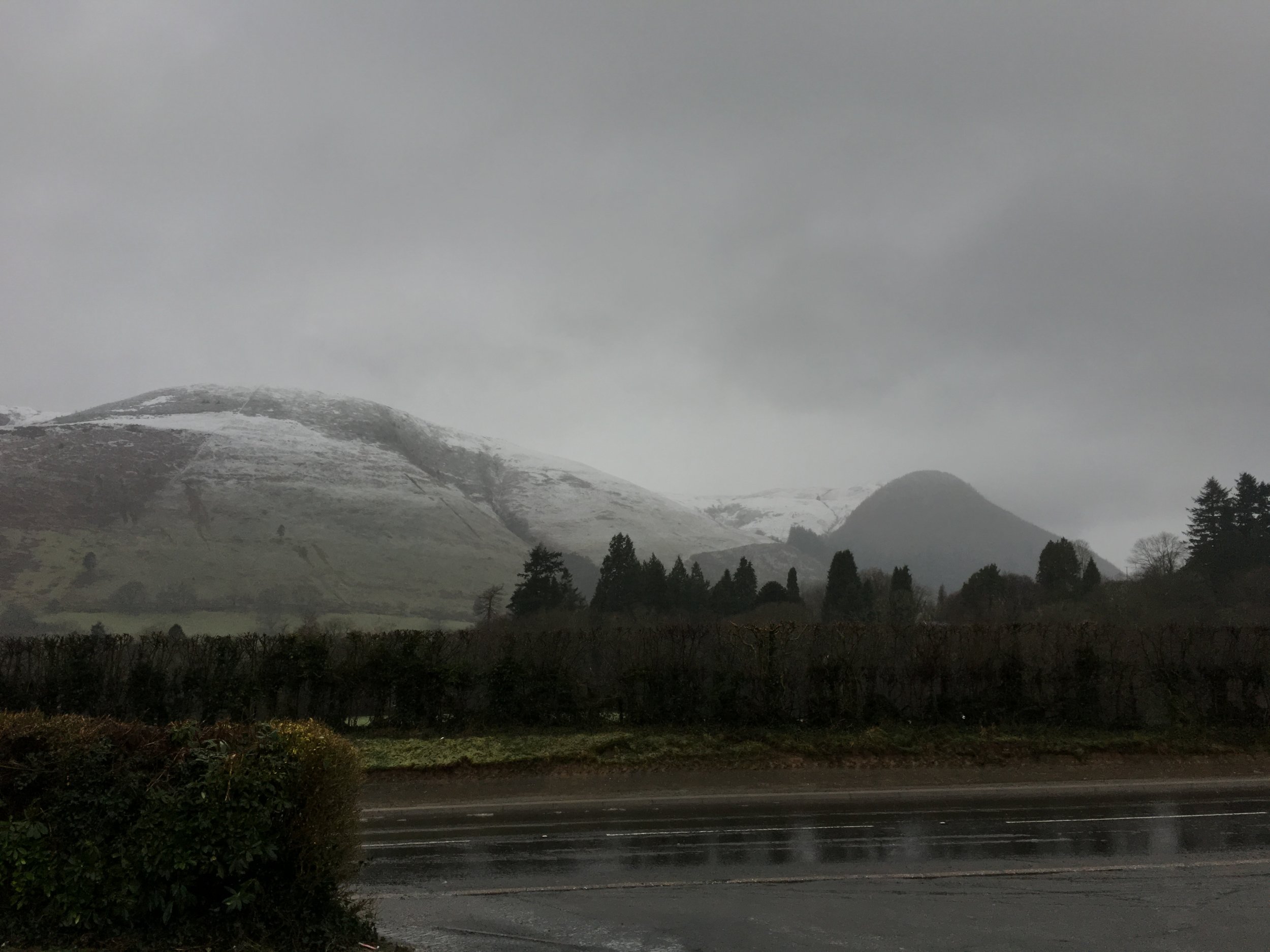 I say it every time, but I wish I had the money to buy an old cabin and lie here. Look at the hills!
I'm very much looking forward to finishing and drying these bowls so I can add some beautiful chip carving and decoration.
So that's my story so far..
To all those who pick up the axe everyday, and take it to fresh timber.. Keep up the good work. Keep making wood shavings, and keep inspiring others to do the same. This is what I call the treen revolution.

Here is a little film I put together, as well as some of my own original music I've recorded. [Played all the different instruments, and recording with a single mic]
I tried to film when I wasn't carving, but those adzes were just too much fun.
If you'd like to know more information about what we've been up to, head over to the facebook page.
I have some kuksas and spoons available for purchase. If you'd like to support my handcraft, there are a bunch in the webshop and a couple linked below.